IT Project Management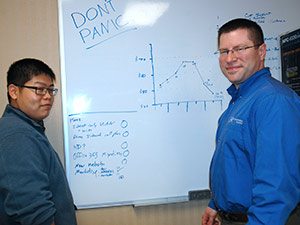 Technology is an undeniably integral part of nearly all modern commerce, but it can often be quite confusing and more headache than many business owners feel it is worth. Between setting up and maintaining systems, paying for all of it, and keeping a dedicated IT crew or budgeting outsourcing costs, technology management can leave your head spinning and fall by the wayside.
However, in today's globalized world, your competition is often-times not just local, but companies all over the world vying for your market. With so many other runners in the race, you can't afford to be lacking in any facet of your operations.
So what is the happy compromise between the hassle of and cost of technology, and the necessity for it?
The answer is DR Technology Solutions' IT Project Management. With nearly 20 years of experience setting up and maintaining custom IT solutions, our IT Project Management is second to none.
DR Technology's IT Management Solution
We will keep your projects on-time, on-task, and on-budget; so, you can worry about the aspects of your business in which you are an expert.  At DR Technology Solutions, we can integrate, streamline, and upgrade the services you and your customers count on the most, as well as expand your email and web offerings.  With DR Technology Solutions, you can rest easy in the knowledge that you have your technology projects under control. Our affordability and reliability is sure to keep you coming back.
To learn more, contact DR Technology Solutions today.