Does Your IT Support Company Listen to You?
Does your IT company want to replace everything, regardless of cost? Do their service people speak some incomprehensible techno-language?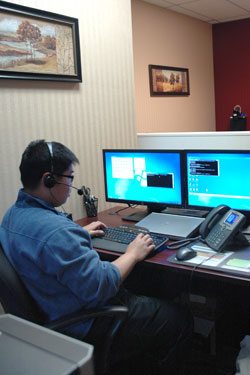 At DR Technology Solutions, we speak plainly and patiently. We never rush in with scare tactics about replacing every machine in your network.  That's a promise.
We'll support your existing equipment, respect your budget, and listen to your needs.
At DR Technology Solutions, we offer:
Computer network support, including wireless networks that support the way your company gets work done.
Service agreements for those who prefer budgetable, stable, or nearly-fixed IT costs every month.
Computer repairs and pro-active maintenance to keep down-time at bay.
Software support and recommendations (solutions that fit your business, instead of the other way around).
Support for existing backup solutions. The latest On-Premises backups and Monitored, Secure Cloud backups.
To learn more, contact DR Technology Solutions today.
IT Support Services
At DR Technology Solutions, we aren't your standard tech support providers. We live and breathe technology. Where some companies may show up, do the job (hopefully correctly) and then are back out of your life, DR Technology Solutions will ensure that you've got a complete beginning-to-end solution.
When you choose DR Technology Solutions, you choose reliability, experience, know-how, and responsibility. We are here for whatever you need, no matter how big or small. Our friendly technicians offer in-depth IT Support for:
Computer Systems Design and Support – Including servers, Windows and Mac desktops and laptops, netbooks, PDAs, smart phones (including as iPhone, Android, Windows, and Blackberry).
Network Design and Support – Wired and wireless, internet, intranet, LAN, WAN, routers, firewalls, security, mobile, remote access.
Software – Microsoft Windows, Microsoft Office, Peachtree, QuickBooks, SQL Server, IIS, Exchange, and many others.
Security – System backup and recovery, virus and malware protection, network security, data security, intrusion prevention.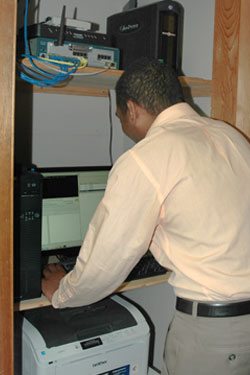 Whether you've got one computer acting up, or an empty office that needs set up with a new company-wide computing solution, DR Technology Solutions has your back every step of the way!
To learn more, contact us today or give us a call at 724-382-6900.
Service Agreements
For those who prefer budgetable, stable, or nearly-fixed IT costs each month, we offer computer support service agreements.  Service agreements assist companies with their budgeting needs while providing the assurance of a true outsourced IT department.
Our computer support service agreements consist of hardware and software technical support and can be tailored to your business needs.  Protect your business-critical systems such as network and server equipment.  Emergency response may be added as well for additional security and peace of mind.
We offer flexibility for your budget so that you can leverage our experience as your professional IT support staff, or supplement your own IT staff where needed.
To learn more, contact DR Technology Solutions today.