Computer Sales and IT Service
What will you get from DR Technology Solutions that you can't from a big box electronics provider?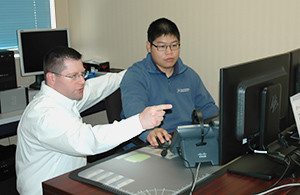 For one thing, proper individual attention. If you've ever felt rushed or pressured into a purchase at a big box retail outlet, then you know exactly what we are trying to avoid. Rushed purchases and decisions are too often regrettable and frequently cause more problems than they fix.
Another advantage of DR Technology Solutions is that of our competent staff. When you walk into a big box store, you never know if you're going to be dealing with an actual electronics expert or whoever they've got covering the PC department that day. Every one of our employees are fully trained and competent in every aspect of modern computing solutions. We don't have a B-team or any second stringers at DR Technology Solutions – we are all star players on your team.
Our Job is to Listen to Your Needs
We provide intuitive and guided computer sales, hardware, and software purchases.  It's simple: our job is not to sell you on the "latest and greatest," it's to listen to your needs, understand the way you do business, and offer solutions that make your business life easier.  Giving you tools you can leverage for greater success: that's our mission – our number one priority is helping you to succeed.
We offer new business class computers, as well as servers, PCs, laptops, netbooks, hardware components, cables, operating system upgrades, software, and more.
To learn more, contact DR Technology Solutions today.