IT Support Services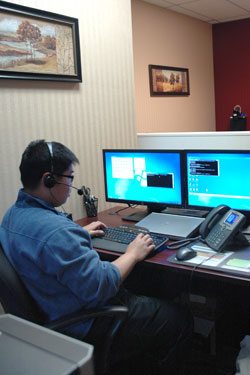 At DR Technology Solutions, we aren't your standard tech support providers. We live and breathe technology. Where some companies may show up, do the job (hopefully correctly) and then are back out of your life, DR Technology Solutions will ensure that you've got a complete beginning-to-end solution.
When you choose DR Technology Solutions, you choose reliability, experience, know-how, and responsibility. We are here for whatever you need, no matter how big or small. Our friendly technicians offer in-depth IT Support for:
Computer Systems Design and Support – Including servers, Windows and Mac desktops and laptops, netbooks, PDAs, smart phones (including as iPhone, Android, Windows, and Blackberry).
Network Design and Support – Wired and wireless, internet, intranet, LAN, WAN, routers, firewalls, security, mobile, remote access.
Software – Microsoft Windows, Microsoft Office, Peachtree, QuickBooks, SQL Server, IIS, Exchange, and many others.
Security – System backup and recovery, virus and malware protection, network security, data security, intrusion prevention.
Whether you've got one computer acting up, or an empty office that needs set up with a new company-wide computing solution, DR Technology Solutions has your back every step of the way!
To learn more, contact us today or give us a call at 724-382-6900.